About Us
Wang Electro-Opto Corporation (WEO) is located in the northern suburbs of Atlanta, Georgia, with modern offices, laboratories, testing, and fabrication facilities.
Company Highlights
A Georgia corporation, founded in 1991 under the Faculty Commercialization Program of Georgia Institute of Technology by Dr. J. Wang, faculty member.
Patented antenna technology – featuring broadband/multiband, low-cost, wireless systems with smart low-profile, conformable antennas and arrays.
Developed a number of broadband antenna product lines meeting existing and future needs in the global civilian and military broadband wireless markets.
Strong software and analysis capabilities in antennas, electromagnetics, microwave and wireless systems.
A most modern antenna testing anechoic chamber, covering frequencies from 40 MHz up to 20 GHz and higher.
State-of-the-art research performed under substantial R&D projects funded by the U.S. Army, Navy, Air Force, DARPA, NASA, NSF etc.
Close relationships with several major research universities with easy access to their personnel and facilities.
Facilities and Equipment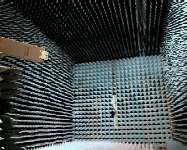 WEO has an indoor anechoic chamber 32' x 18' x 16'(H) in size, which is completely lined with pyramidal absorbers. Presently, our chamber is specifically designed for accurate antenna measurements throughout the microwave frequencies from 40 MHz to 40 GHz. Test equipment consists of a Anritsu MS4644B (10-MHz-40 GHz, expandable to 10-MHz-110 GHz), Wiltron 360B Vector Network Analyzer System (0.04-20 GHz), an Anritsu 37347C Vector Network Analyzer System (0.04-20 GHz), and an Anritsu 2601B Spectrum Analyzer, among others.
The Company also has an optoelectronic laboratory and an RF laboratory. For prototype development and small-scale production of antennas and feed networks, etc., WEO has an in-house machine shop with all necessary tooling, including a mill/drill machine. It also has a printed-circuit board etching facility, a wire-bonding facility, and gold-plating capability, including two printed circuit board prototyping machines (a T-Tech QuickCircuit Model 7000 and an LPKF ProtoMat Model M60) and a West-Bond Model 5700B wire-bonding machine.